In a year defined by digital transformation at breakneck speeds due to the pandemic, traditional banks continue to face a number of threats as new technology enables other players to rise to the top.
The biggest disruptor? Big Tech.
Companies like Amazon and Google have made tremendous strides with innovation in the past decade, disrupting a wide range of verticals along the way. Although Big Tech has been and continues to remain a competitive threat, for the first time in a while financial institutions who view it as a threat are decreasing. Since 2020, that percentage has dropped 12%. Why? Where previously there might have been competition, many are now starting to see opportunity in partnering with Big Tech companies.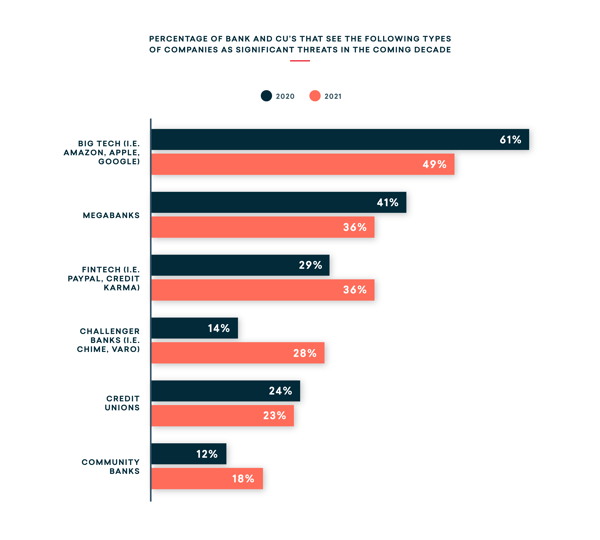 Source: What's Going On In Banking 2021 Report
Data shows that nearly 50% of surveyed financial institutions expressed interest in partnering with Amazon if the technology firm opened its doors for them to lend to Amazon merchants. This reframing from competitor to partner reverberated throughout financial services with the emergence of embedded finance (Banking-as-a Service) in 2020.
With this shift, non-traditional financial players entered into the banking space on terms amenable to those already in the ecosystem. We saw the growth of deposit account partnerships between Big Tech players and financial institutions (i.e. GooglePlex, Stripe Treasury, Amazon and Marcus) and we can predict that the partnership model between financial institutions and Big Tech players will continue to scale moving forward as it is mutually beneficial for both parties.
In many cases, financial institutions lack the depth of consumer data and reach that Big Tech players possess. Partnerships enable these institutions to expand beyond their existing consumer base and better optimize their balance sheets. Big Tech can better service the needs of their customers by offering financial products and improving customer lifetime value and stickiness, without having to massively scale up their financial infrastructure or compliance programs.